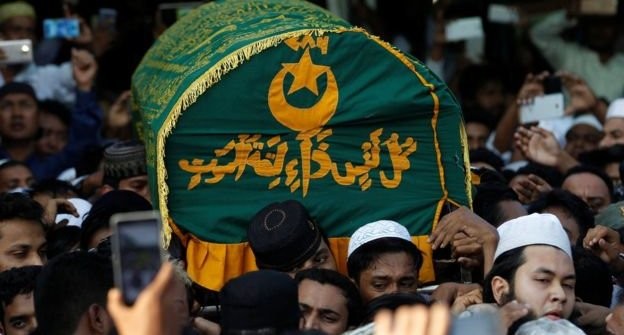 By Dr. Nehginpao Kipgen, Political Scientist, Assistant Professor, Jindal School of International Affairs
Ko Ni, a prominent Muslim lawyer and a key member of Myanmar's ruling National League for Democracy party (NLD) party, was shot dead at Yangon International Airport on January 29.
The prominent lawyer was holding and talking to his grandson when the gunman shot at point blank range. The lawyer was returning from a government-sponsored trip to Indonesia to discuss democracy and conflict resolution, a delegation led by Information Minister Pe Myint.
There are a few things that have developed since the broad-daylight murder in the country's busiest airport. But certain things still remain unanswered and it may take weeks, if not months or years to see the complete story.
Some of the things we know so far are that the shooter, named by police as Kyi Lin, was arrested after a group of taxi drivers chased him down. In the ensuing melee, one taxi driver named Nay Win was also killed.
The gunman told police that an acquaintance had offered to pay him money to buy a car if he had carried out the job.
While tens of thousands turned out for Ko Ni's funeral on January 30, people inside the country as well as across the world are closely watching how authorities investigate a killing President Htin Kyaw's office says is an attempt to "undermine the country's stability."
Because of the high-profile nature of the victim and partly because of the international community's interest, the chief of the Myanmar Police Force, Major General Zaw Win, has taken charge of the investigation, a case which is being handled by the police's criminal investigation department.
What we also know about Ko Ni is that the lawyer was known for opposing legislation restricting interfaith marriages and conversions under former President Thein Sein, and had also helped draft a bill to limit religious hate speech.
He, as a constitutional law expert, had also spoken out about the powerful role the military retains in governing the country, despite handing over power to the NLD government in April last year.
Despite all these facts, there are certain things that are puzzling to many ordinary citizens and observers alike.
The first question is over the silence of the country's de facto leader Aung San Suu Kyi. She has neither released official statement nor attended the funeral service of Ko Ni, which drew an estimated 100,000 mourners, including family members, lawyers, NLD activists and members of Yangon's diplomatic corps.
Not only Ko Ni was a prominent lawyer, he had been a trusted advisor to Suu Kyi's NLD party on exploring ways to amend the military-drafted constitution, especially Article 59(f) which bars Suu Kyi from holding the country's highest office.
Article 59(f) of the Myanmar constitution states that the president, one of his or her parents, spouse or children should "not owe allegiance to a foreign power, not be a subject of a foreign power or a citizen of a foreign country."
This clause covers both of Suu Kyi's sons, who are British citizens and, like many observers, she believes that it was specifically intended to prevent her from holding the chief executive position.
Ko Ni's constitutional expertise was crucial in circumventing the controversial clause by creating the post of state counselor, which is officially answering to the president but in reality a powerful spot at the top.
In her capacity as the state counselor, Suu Kyi overtly or covertly has control over the different ministries of the government, except for the three ministries constitutionally guaranteed for the military—home, defense and border affairs.
One reason for Suu Kyi's silence could be that she would like President Htin Kyaw's office to speak on her behalf, which would convey to the entire world that despite her de facto position, she respects and follow the protocol of keeping the president's office at the top.
One other possible explanation is that she restrains herself from making comments that could otherwise be construed by many of the majority-Buddhist population amidst heightened tensions between the Muslims and Buddhists, especially in Rakhine state.
Another possible explanation is that since the home ministry, which is controlled by the military, has given the assurance to conduct a thorough investigation, Suu Kyi is leaving the case for the law to take its own course.
It could also just be that she awaits for further details before making any public statement.
While her silence remains a question, there is a possibility that the Muslim population within and outside the country of accusing Suu Kyi being too political and opportunistic on the demise of someone who worked relentlessly for her political victory.
It also remains to be seen whether a few people of vested interest orchestrated the assassination of Ko Ni or it was something of a larger conspiracy. For example, was he a political victim of his efforts to replace the undemocratically drafted constitution with a more democratic one?
Another speculation is that was he a victim of some religious fanatics because of his opposition to the legislation restricting interfaith marriages and conversions under former President Thein Sein, or for helping draft a bill to limit religious hate speech, or something related to the Rohingya conundrum.
Though Ko Ni belonged to the minority Muslim population, there was no evidence that he was using his professional role as a lawyer and being a trusted advocate of NLD party to advance or promote his own religion and vice-versa.
Regardless of the motive behind the murder, it is a blow to the consolidation of the country's democratization process. In a country where the rule of law still is a major problem, Ko Ni's assassination could cause fear and anxiety for potential law practitioners and reformers.
The NLD government and the military must deliver justice to the injustice and be answerable to the many questions that remain unanswered. More importantly, all political stakeholders, including the international community should continue to help the Myanmar government to achieve peace and stability in the country.
(This article was originally published in Foreign Policy Journal)