TUNE IN
STARTUP JGU EVENTS!
Clean tech beyond the hype and cliche
26th October 2023
 Startup JGU was proud to host Mr Alexander Hogeveen Rutter a power systems professional with a specialisation in renewable energy, he is also a angel investor for clean tech startups. Following his profile Mr Alexander conducted a hour long session titled clean tech beyond the hype and cliche where he touched upon the ins and outs of investing in clean tech and the framework he utilises to gauge a startup before investing. This engaging event was hosted in the big bang conference room by the Startup JGU team of interns under the mentorship and guidance of Prof. Tejpavan Gandhok, Prof. Preeti Tiwari and Prof. Kotipalli Priyatej.
The session was attended by some of JGU's sharpest minds, resulting in an extended QNA session and an insightful conversation; we hope this event is the start of many more insightful exchanges.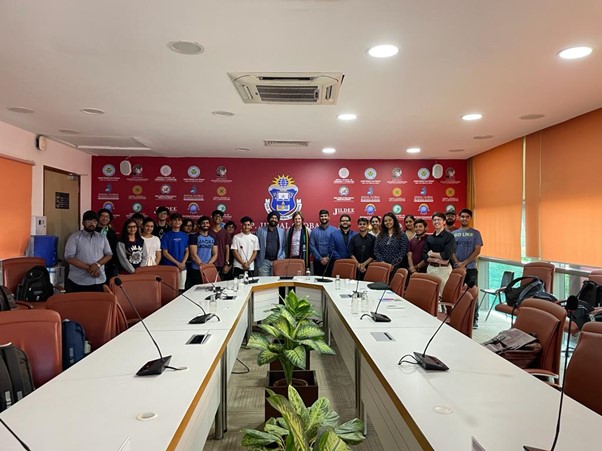 ENT summit 2.0
1st to 3rd September 2023
A JGU-wide event that transcended the school boundaries and brought together students, educators, and businessmen alike. The ENT Summit 3.0 was one of a kind. A wide array of networking opportunities and competitions resulted in a memorable occasion showcasing the caliber of the students this university has. A total of 12 schools directly participated in the event. The event efficiently catered to the new technological advancements of the 21st century since the theme revolved around- " Emerging Technologies".
Distinguished speakers also graced the event with their wisdom and expertise. Speakers like Pushpinder Singh, Founder of Travel Khana, Kabir Advani, founder of Berco's, Vishal Jindal, Founder of Biryani By Kilo and Nick Booker, Co-Founder of IndoGenius graced the occasion with their presence. The three-day summit managed to attract an impressive number of attendees.
There was exceptional talent on display in competitions like "The ENT Debate" and "Corporate Among Us" that left everyone in awe. Throughout the three-day summit, there was an ongoing exhibition dedicated to showcasing the entrepreneurial endeavors of studentpreneurs. Not only this, but the students got a chance to satisfy their tastebuds and indulge in lip-smacking food from the food stalls present throughout the event.
The event's highlight was – "Punchlines and Paychecks" a comedy show by Rajat Chouhan that made sure that the atmosphere was filled with hysterical laughter keeping the students entertained and engaged.
The ENT Summit was a resounding success that provided an incredible platform for people to celebrate the art of business and entrepreneurship.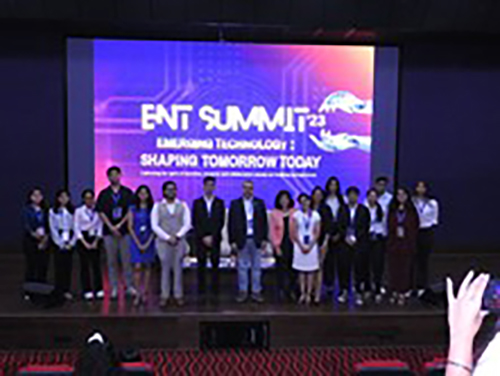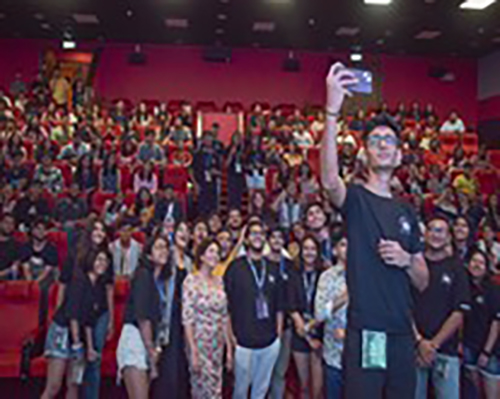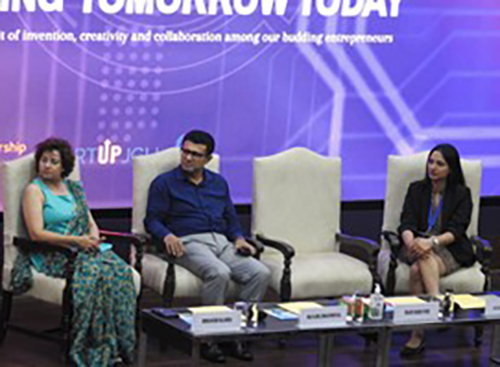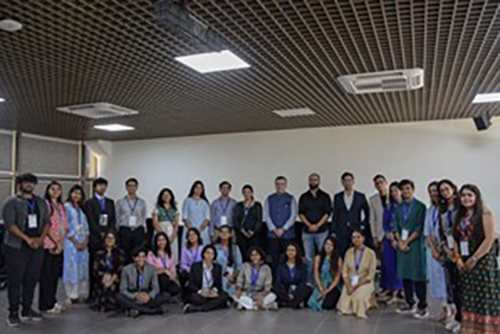 STARTUP JGU EXPERT TALK SERIES ON " Successful Entrepreneur Skills" BY Ms. VANDANA TOLANI, FOUNDER CEO AT CONVANTO
FEB 4, 2022
Ms Tolani discussed how startup funding space is evolving in India and how to pitch your business idea, traits of a successful entrepreneur and how women entrepreneurs can manage work-life-balance. Find out more details of the talk here: https://youtu.be/ZnaLzzH4-d0


DEAN OF JINDAL GLOBAL BUSINESS SCHOOL, PROFESSOR (DR.) MAYANK DHAUNDIYAL, ALUM SERIES WITH MR. VISHAL SINGH, CEO (HEMPLOOM) AND MR. PULKIT JAIN CEO (CITILAD LIFESTYLE)
FEB 2, 2022
The Student Alumni Relationship Committee recently organised the JGBS DEAN- ALUM Series interview with alumni Vishal Singh and Pulkit Jain, BBA (honrs.) program, class of 2019 in conversation with Dr. Mayank Dhaundiyal, DEAN JGBS. During the interaction Vishal shared his inspiring journey as the founder/CEO of 'Hemploom'. Further Pulkit, the man behind 'Citilad Lifestyle', has also insightfully exchanged his ideas on business with the Dean. Today they are among the very few to be listed in the 30 under 30 Indian entrepreneurs.

STARTUP JGU EXPERT TALK SERIES ON " StartUp Funding" BY Mr. TUSHAR KANSAL, FOUNDER CEO AT KANSALTANCY VENTURES
JAN 19, 2022
Mr. Tushar discussed why it is valuable to have your own business then a job and how Venture Capital investments can be made and attracted for your own business idea. Find out more details of the talk here: https://www.youtube.com/watch?v=s-M5tLnOUe4

DEAN OF JINDAL GLOBAL BUSINESS SCHOOL, PROFESSOR (DR.) MAYANK DHAUNDIYAL, alum series WITH MR. sukant arora, associate director (Share India securities ltd.) cofounder & CEO (quantilya capital)
OCT 28 2021
The Student Alumni Relationship Committee recently organised the JGBS Dean Series interview with Mr. Sukant Arora, JGBS alum, MBA class of 2012.  The interview was taken by Prof. Mayank Dhaundiyal and focused on the dynamics and scope of trading in derivatives and the role of JGBS during the formative years of any student, where Sukant explained how JGBS has been transformational in building his professional life.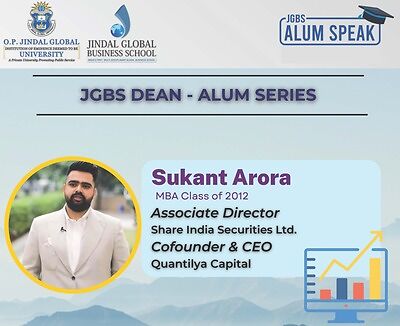 The workshop covered topics such as a) what is asset valuation b) how to value a startup b) different methods to value startups c) stages of a firm's life cycle and valuation d) how startup valuation is different than the valuation of an established firm.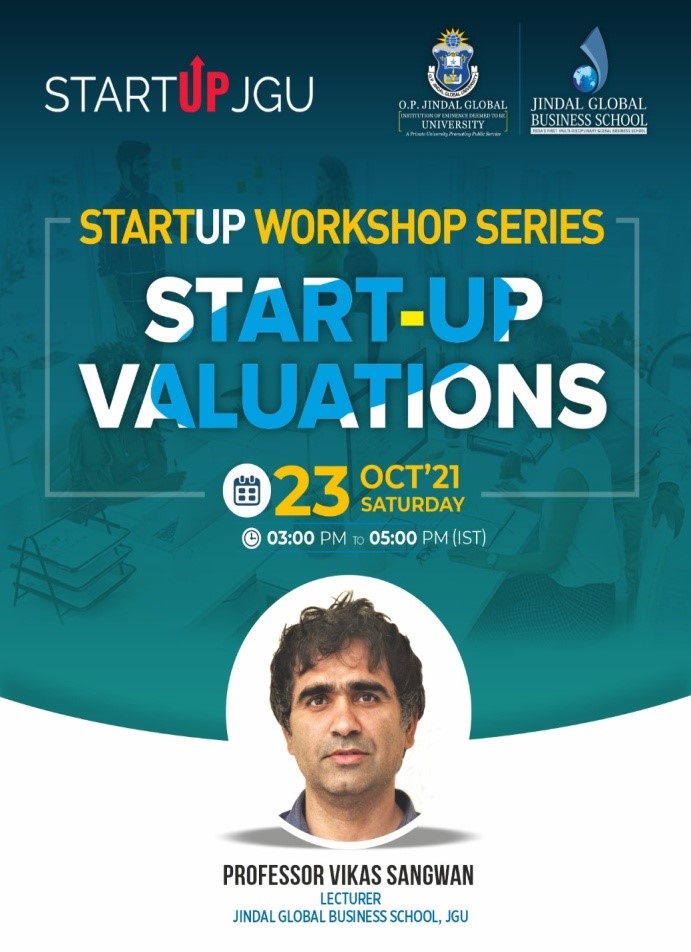 Dean of Jindal Global Business School, Professor (Dr.) Mayank Dhaundiyal,Weekend conversation with Mr. Paramdeep Singh Anand, CEO FieldAssist, on "Becoming an Entrepreneur: Expectations Vs. Reality"
Oct 9 2021, 
Mr. Paramdeep Singh Anand started his entrepreneurial journey early on and founded Param Health Foods in 2006 when he was still in his final year of mechanical engineering. He bagged numerous laurels and appreciation for the initiative and was the "first student graduate incubate of the Technology Business Incubator" at his university. Mr. Paramdeep Singh Anand is currently the CEO of FieldAssist, India's leading B2B sales automation platform, empowering the sales teams of various organizations to measure the right metrics, thereby providing an in-depth analysis and helping them make the right strategic decisions. With his astute leadership he has grown the business to a whole new horizon of success. FieldAssist is now a million-dollar enterprise growing at more than 100% YoY and currently serving more than 450+ enterprise consumer goods brands in India & abroad.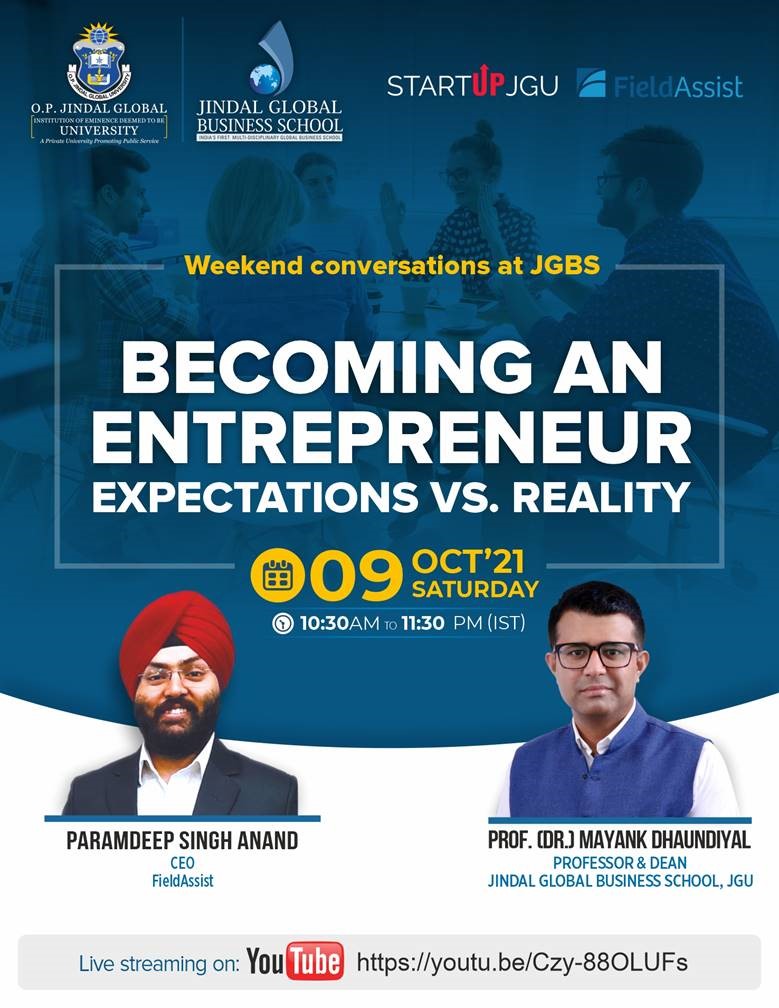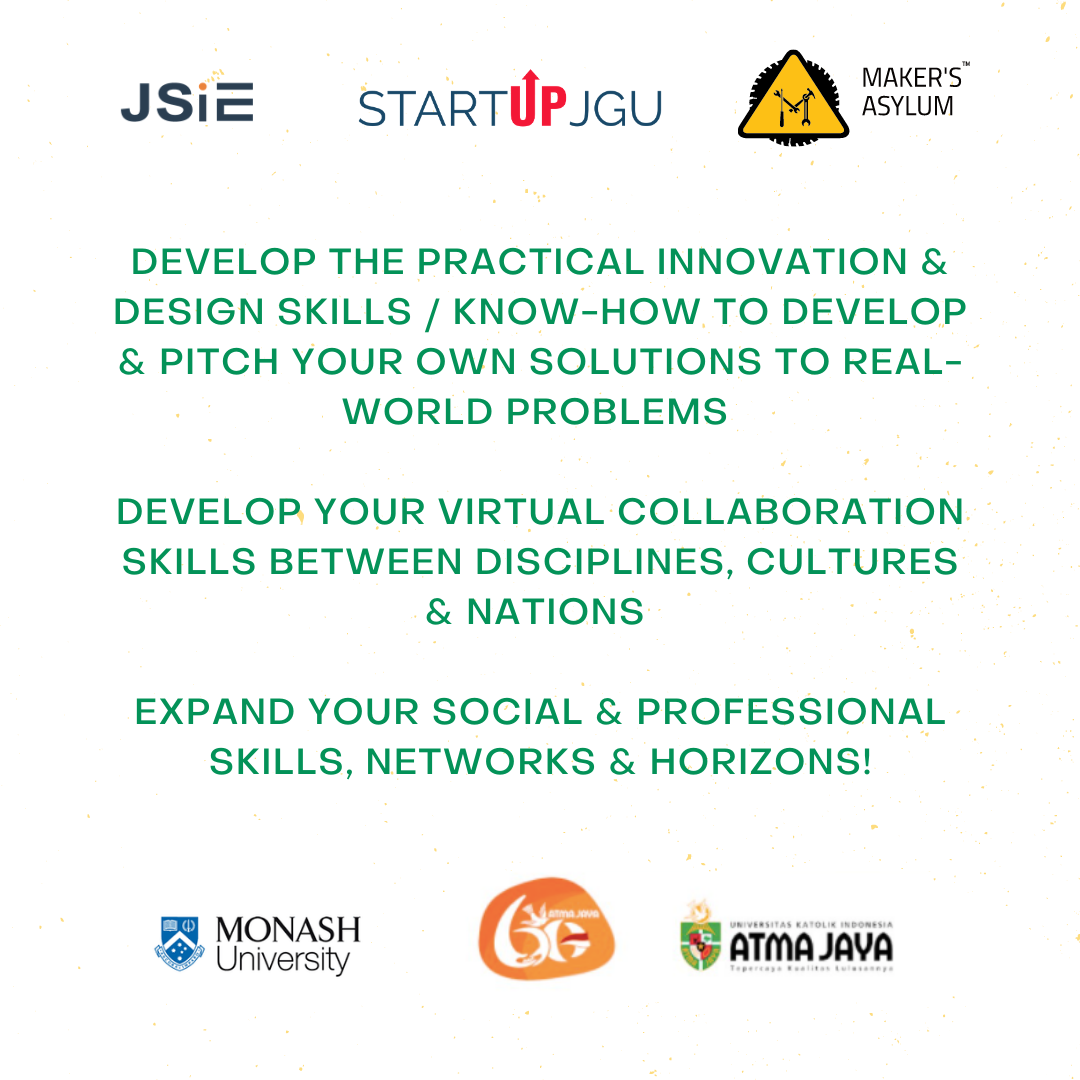 SECAP: Social Entrepreneurship Challenge in the Asia Pacific
Jan18-29 2021 
SECAP was a two-week international innovation challenge and cross- university elective collaboration with Monash University in Melbourne, Australia; Atma Jaya University in Indonesia and industry partner Maker's
Asylum in India from 18 to 29 January 2021.
Students worked with 20 industry experts and mentors and attended workshops on the Sustainable Development Goals, Design Thinking, problem and solution development, frugal innovation, assumption testing, prototyping with Figma and MIT Inventor, and storytelling. The program drew mentors and experts from each of the represented countries and the US, France, and China.
Nearly 100 students from Indonesia, India, and Australia were chosen to participate and receive course credit in their respective universities. 30 students represented JGU at SECAP. The truly global program placed each student in a mixed university team to collaborate and find innovative solutions to some of the most pressing global social and environmental challenges.
CHALLENGES
Ecosystem Activities & Challenges
Emzingo Women's International Social Impact Weekend
For students and founders from India, Brazil, South Africa, US, Europe and Cameroon. 
UN & EU: CLIMATE INNOVATION LABS
Rice Business Plan Competition
Where more than 40 select student-led, early-stage companies can pitch their ventures. More than $1 million in prizes are up for grabs. The competition, entering its 21st year, gives collegiate entrepreneurs real-world experience to pitch their startups, enhance their business strategy and learn what it takes to launch a successful company. LEARN MORE
TECHSPARKS
Startup JGU sent 10 students to AWS's TechSparks 2020!

My biggest learning after hearing the learned people would be that, one should be confident about what he is doing and should do a thorough study about the venture a person is entering into. If an entrepreneur is clear in his ideas and knows how to execute, there are many investors waiting to invest in the new idea and therefore funding is not an issue. What I feel is I lack on the ideation stage, i.e. on what things I have to be ignorant and or what things I have to find a solution of and capitalize on the situation. I really loved the line mentioned by Mr. Saurabh , VP of Paytm that, " For a Businessman 1+1 = 2 whereas it's 11 for an Entrepreneur.

Long term vision and institutional development is important to develop. India is a great market to startup a business, if a person can build in the Indian market they can build in any market. Build in the community and for the community. Build Indian ethos. Build sustainable environment. Persistence is most important value for entrepreneurs. Persistence is boring but trying helps to improve. It is tough to be persistent, so an entrepreneur requires constant motivation. For this they should keep on doing things that provide them motivation.

 During the event, I was fortunate to hear Anu Hariharan, partner – Y combinator continuity fund. Through her, I got to know how important it is to be optimistic and how each challenge, especially in our Indian education system, prepares us for the future. I learned how important it is to have clarity of thought while starting a startup, and how one's confidence in one's product is equally important for its success.

One of the speakers that I found interesting was Byju Raveendran, Me being a user of his service, found it very interesting when he gave his insights into online learning and into EdTech industry as a whole. In his speech he said that if you say that you've succeed, then its game over, as you have to keep improving.
Archana Vohra talked about how Facebook is helping MSMEs by providing the necessary skills, training, financial support and so on. And how Facebook went from being an app for posting pictures to people using it for building and growing their businesses.